---
Delivery & Shipping
---
Pool Float Premium Cushion Midi by chillisy®
Float Collection
Relaxing on the water
The floating pool cushion is swimming pool chair, pool chair and chaise lounge at the same time - for high demands. This giant pillow will give you stability, gives you security and gives you security that you have never felt before on the water. It's as if the floating pool pillow is calling to you, "Just let yourself go, it's chillisy time!"
This is relaxing on a new way of life, relaxing like never before, putting thoughts on a cloud and pulling away, so that you can finally start to dream ... Let yourself be softly stroked by the warm rays of the sun, with gentle relish Swaying on the water in your chillisy® pool cushion, just let your mind wander.
But beware! Once you have followed this request, the danger is very high, to become a repeat offender - because floating is awesome!
Details:
Product: float, pool bean bag
Size: 160 x 120 cm
Color: White
Awards: German Design Award Nominee 2019, Best Outdoor Cushion Brand 2018, Best Top Partner 2018
Use: pool, sea, lake
Pool Cushion is made of: textile cover (100% premium acrylic with water-resistant special finish) with water-resistant zipper, a waterproof and sealed inner pillow filled with white Styrofoam pearls in Virgin quality. All made in Germany.
Seams: 3-fold seam with tear-resistant and color-fast yarn
Scope of delivery: Pool cushion cover with styrofoam beads filled waterproof inner cushion, for the best possible sitting and lying comfort
Collection: Floats For Beach Pool Yacht
Sewn and welded in Germany
5 years warranty
The weatherproof pool cushion covers made of premium acrylic fabric are sewn with great precision in German handwork. The filling consists of high-quality polystyrene balls, which are set in tear-resistant and waterproof inlets. This ensures a low dead weight and highest seating and lying comfort. The pool collection offers completely new possibilities for relaxation on the water, in private, commercial and public areas.
Awards
The unique floating premium pool cushion by chillisy has been honored with the "German Design Award Special 2019".
The floating cushion 190x130 cm was invented in 2010 by Isa Schütze. It consists of a waterproof inner pillow filled with polystyrene beads and air. By acclimatization the optimal lying and seating comfort is made possible. A textile pillow cover that meets the demands of the pool (does not fade, does not mold, etc.) and feels like cotton, which gives the lying on it actually the feeling of floating at the highest unsurpassable level.
A distinctive and practical recreational floating lounger for pools in a range of modern, vibrant colours that excite the eye. The use of materials to replicate the feeling of cotton is seemingly particularly relaxing.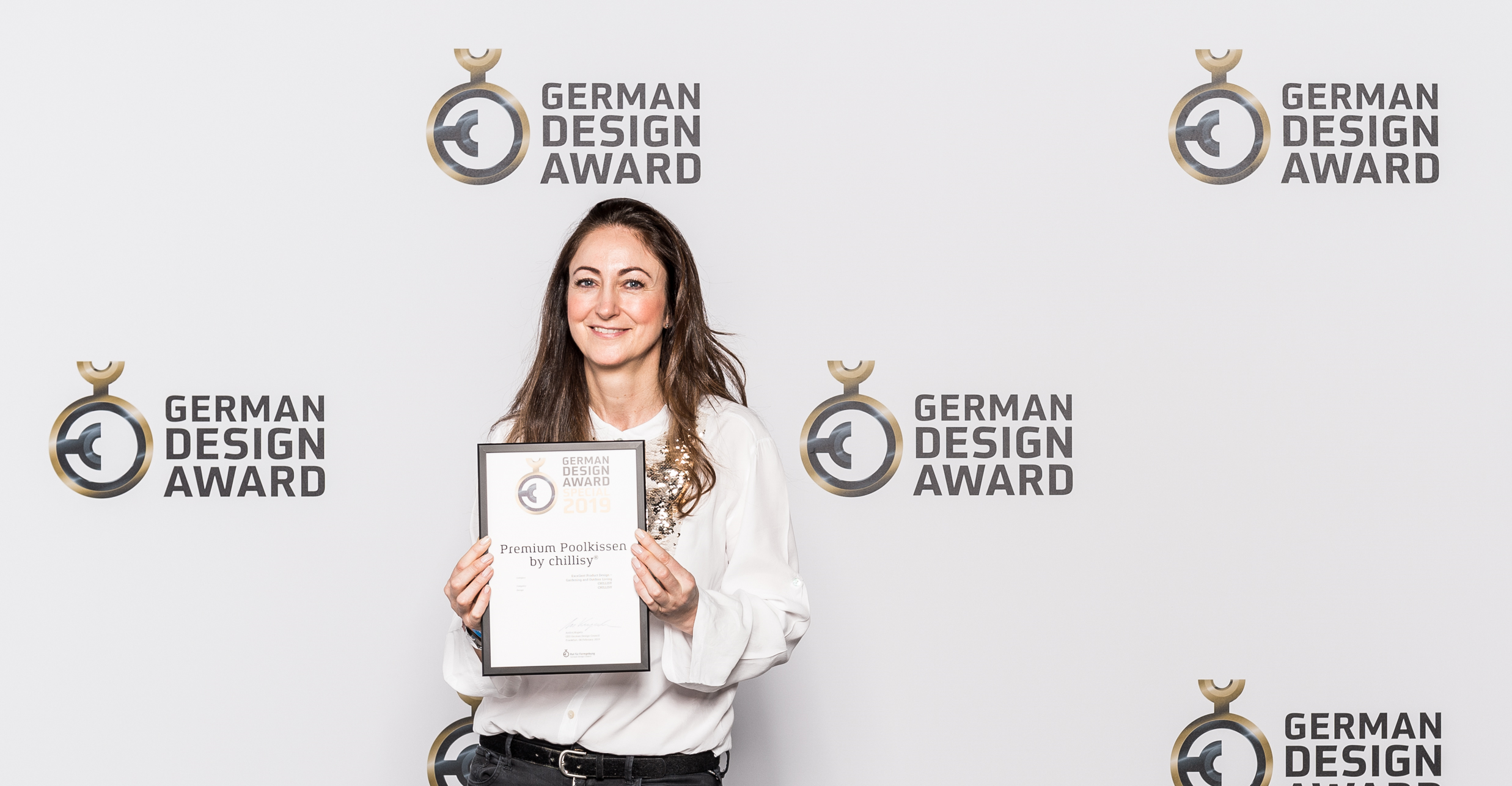 Colors
In 2019, chillisy® will start the summer with a wonderful variety of colors! Soft pastel colors like lime, rose or mint green make the hearts of summer children beat faster. But the bright colors such as the Ferrari red, grass green and pink are still in vogue and a colorful splash of color in the pool.
For all natural color lovers, the color palette has been enhanced with the nuances of mother of pearl, canvas, butter caramel and wood look. If you want to keep your stone house finca tone-on-tone, our natural colors are just right.
In the color black, one or the other is probably noisy, and is firmly convinced that the color fades. No she does not. And if you're a black fan, just give it a try. You have a 3 year warranty, and if you fade, you can change your cover at any time.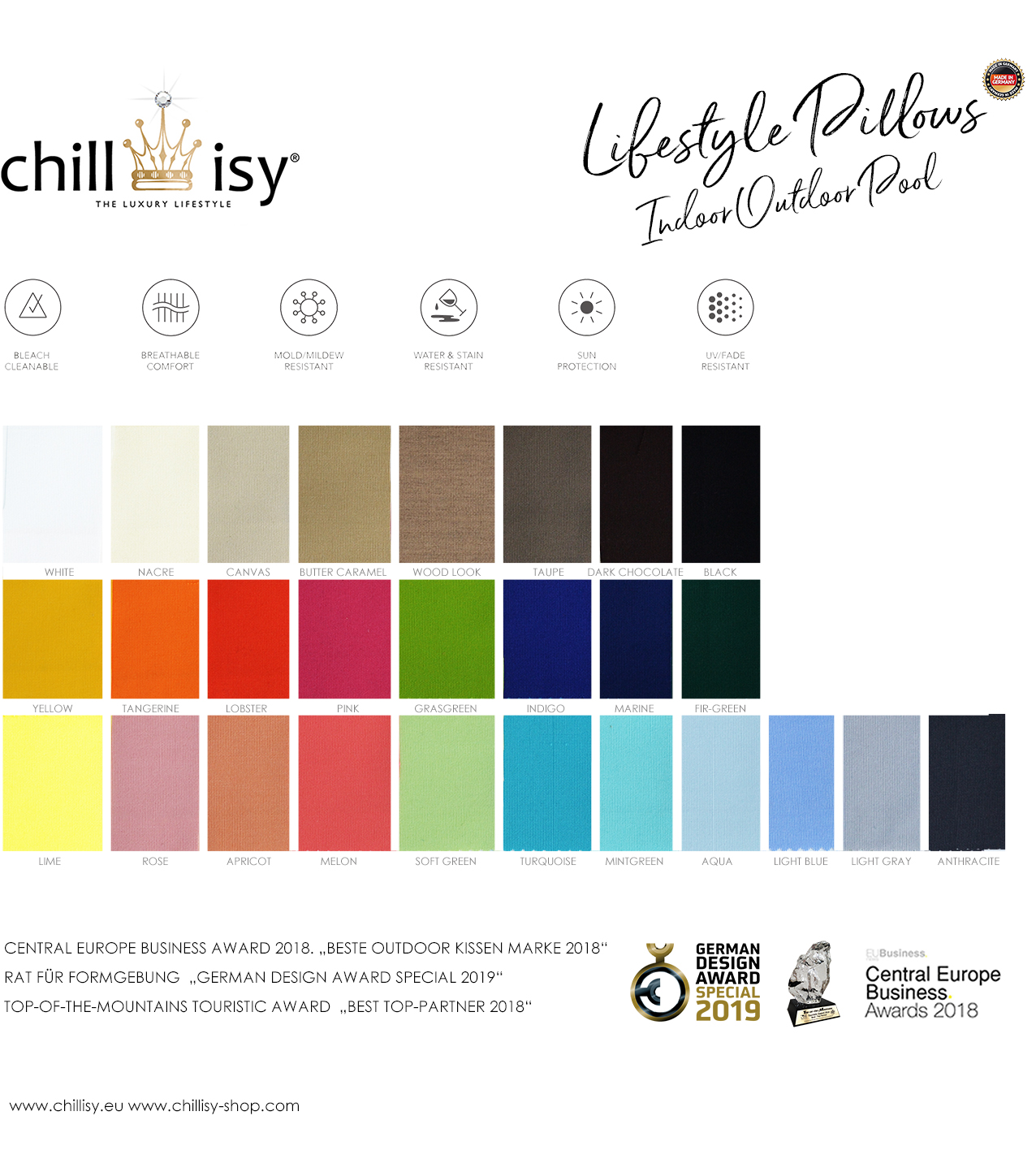 Real German handicraft
We sew and weld our products exclusively in Germany. The materials are Oeko-Tex Standard 100 certified, and are made of non-toxic textiles, yarn and fabrics.
---
Product Attributes
COUNTRY OF MANUFACTURE
Sewn and welded in Germany
DETAILS
Cushion cover with zipper is removable and exchangeable. Waterproof inner pillow filled with styrofoam beads. Delivery with filled ticking.
MATERIAL
Cushion cover: 100% textile premium acrylic with water-compatible special finish
MATERIAL PROPERTIES
weatherproof, antibacterial, breathable, colourfast, dimensionally stable, easy-care, resistant to chlorine saltwater and mold, dirt-repellent, washable and water-repellent
CARE INSTRUCTIONS
Wash the cushion cover with 40 ° machine wash. Not in the dryer! Wash the waterproof inner cushion regularly with clean water.
COLLECTION
Floats for Pool Beach Yacht
OEKO-TEX STANDARD 100
All materials are OEKO-TEX STANDARD 100 certified